We are having a Party and YOU are Invited!
Our month long Party is to Celebrate Breastfeeding!
During September we will posts several articles about breastfeeding, including a 'Share Your Story' post, and 'Tips & Advice', plus lots of information about products that can make the breastfeeding experience a little easier, especially for first time mama's. And No Celebration is complete without
Prizes! Prizes!
and
More Prizes!
In honor of what we think is the Cutest Plush Toy by Manhattan Toys, featured in our Celebration Button, we will be giving one of our Lucky Readers a Free
Nursing Nina Mama Cat with babies that actually 'latch-on' to nurse!
These adorable plush toys are the perfect symbol for our theme of this event
"Breastfeeding is Best for All Babies"
and they are a wonderful way to share the breastfeeding experience with your little ones. We will also be giving away lots of great Breastfeeding Products that will be featured in our posts.
Just Some of the Great Prizes we will be giving away are:
Medela
Breast Care Kits
loaded with lots of valuable breast care products for nursing mama's.


Easy Expression Bustier Hands-Free Pum
ping Bra


Undercover

Mama
, the strapless undershirt that hooks to your favorite nursing bra. It is discreet, stylish, and practical. Undercover Mama makes nursing your baby easy and convenient, at home or on the go! Look for these to be added to our online store Very Soon!
Bamboobies
Super-Soft Organic Bamboo Nursing Pads
-Made in the USA!
Win a Multi-pack of Bamboobies:
A lingerie bag with one pair of overnights and 3 pair of multi-colored regular 'heart shaped' pads. Now
Available in our store
.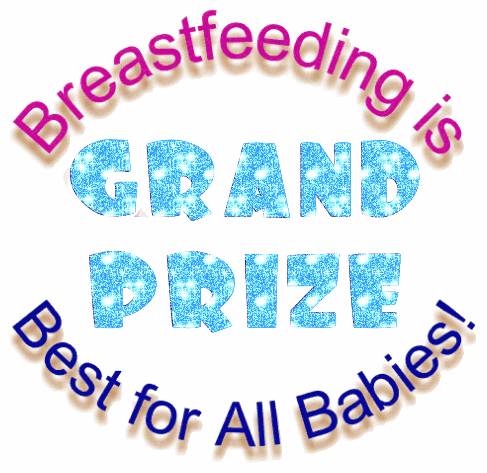 Medela Inc
has generously provided us with a
"Pump-In-Style Breast Pump" as our Grand Prize Giveaway
for this Celebration!
WOW, this is a Double Electric Pump-In-Style Shoulder Bag Breastpump with a retail value of $279.99,
just like the ones we carry in our store* and
One of our Super Lucky Readers will receive it for

FREE!
All
online orders that include ANY Breastfeeding related products
during the month of September will also receive Free Samples of: Lansinoh Lanolin to Soothe, heal, and protect dry cracked nipples, Lansinoh disposable breast pads, Medela disposable nursing pads, Breastmilk storage Chart Magnets, or Hygeia Breastmilk Storage Bags, while supplies last.
Help us spread the word about our
September Breastfeeding Celebration event,
"Breastfeeding is Best for All Babies"
by adding our
Event Button
[below] to your blog. Please tell your facebook friends, Tweet to your Twitter Friends & Followers, and Blog about this giveaway too.
All of these things will get you extra entries in any of our Breastfeeding Giveaways!
Grab Our Event Button!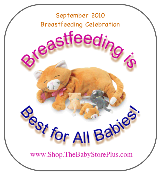 To be sure that you don't miss a single post in our Breastfeeding Celebration Event going on all month in September,
Subscribe to The Baby Store Plus Blog via Email
now! An activated email subscription will be required to enter and win any of our
"Breastfeeding is Best for All Babies" Giveaways!

*We carry a full-line of Medela Products in our Brick & Mortar store located in Cortez, Colorado, as well as in our
Online Store
. If you are ever looking for ANY Medela products and cannot find them on our website, just give us a call at 970-565-2116 and we will process your order over the phone
Side Note
: One of my new bloggy mom friends is hosting her first Review & Giveaway on her new blog "
Mommy Reviews
". Because the product she is reviewing is one of my personal favorites...and breastfeeding related, I offered to give her a little plug here. If you would like to learn more about
Bamboobies Washable Breast Pads
and enter to
Win a Set of Bamboobies
for yourself, pop on over to her blog. She has very low entries so far, so your odds of winning are pretty good.
© 2009-2010 The Baby Store Plus, All Rights Reserved